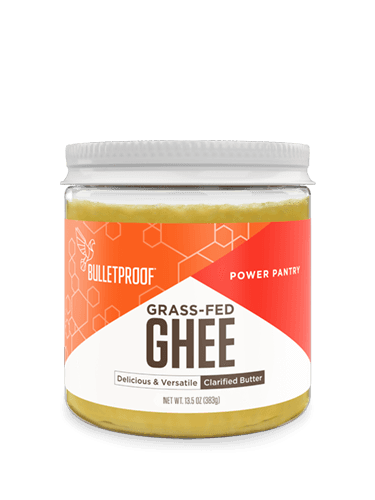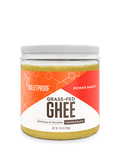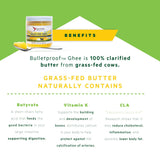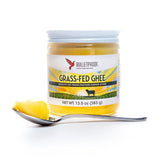 Ghee butter, 383 g
---
SFr. 29.00
Sold out
---
Type: Food supplements
Vendor: Bulletproof
---
---
Description:
 Grass-fed Ghee Butter, 383 g (13.5 oz) 
Delicious buttery taste
100% pure butterfat from grass-fed cows
Clarified over an open flame to remove nearly all casein and lactose
Versatile cooking fat – use in cooking, baking and Bulletproof Coffee
Sugar free, gluten-free, non-GMO, from grass-fed butter, and all natural
High smoke point of 485°F  
Bulletproof Ghee is thoughtfully produced in the traditional Ayurvedic method by slowly heating grass-fed butter over an open flame, carefully removing the moisture and milk solids resulting in pure, clarified butterfat that preserves only the best parts of butter.
Naturally gluten-free and non-GMO, Grass-Fed Ghee is the perfect expression of buttery goodness. As versatile as it is delicious, try it drizzled over any food to upgrade your meal and power your day.
Grass-fed Ghee's high smoke point of 485°F make it great for most cooking applications, and all around pantry staple. This means your ghee-cooked foods, like roasted veggies, will not have oxidative damage that other, less stable cooking fats might. Cook, roast, bake, spread, drizzle, sauté, rub, glaze, brush … you get the picture. The uses of Grass-Fed Ghee are endless.
Ghee can be consumed at any time of the day. Blend it into Bulletproof Coffee for breakfast, or add it to meals throughout the day. Try it as cooking oil or drizzled over any food to upgrade your meal and power your day.
Besides Bulletproof Coffee, you can also use Ghee…
In tea
As a cooking oil
In baked goods
Drizzled over meats and vegetables
In any food or drink for an amazing boost of Bulletproof quality fats
 As versatile as it is delicious, try it blended with Brain Octane™ in Bulletproof Coffee.
How to put Grass-fed Ghee in your coffee, the Bulletproof way.
Step 1: Brew
Choose your favorite brewing method and use 2 ½ tablespoons freshly ground beans for every 9 ounces of water.
Step 2: Bulletproof
Add 1-2 Tbsp of Grass-Fed Ghee.
If you're new to Bulletproof Coffee, add 1 tsp Bulletproof Brain Octane to your coffee, gradually increasing up to 1-2 Tbsp.
Blend for 20-30 seconds until it's creamy and frothy.
Feel the difference with your first cup.
Note: Ghee does not foam like butter when blended, so your coffee may not have a frothy head. Don't worry, it's still nutritious and delicious!
For a foamier (and protein-rich) experience, add a scoop of Upgraded Collagen to your Bulletproof Coffee.
FAQ:
Do I need to refrigerate ghee?
You do not need to refrigerate Bulletproof Grass-fed Ghee. It is shelf stable.
Is it organic?
We do not pay for organic certifications, but our cows graze pastures employing passive organic practices.
Where is the butter sourced?
Our butter comes from pasture raised, happy cows in New Zealand.
To what temp is it heat-stable?
Grass-fed Ghee is heat stable up to 485°F
I am allergic to dairy - Can I eat this?
The process of clarifying butter into ghee eliminates nearly all of the casein found in butter, but some few parts per million will always remain. If you have a severe allergy, we do not recommend consuming ghee.
Is it non-gmo, gluten-free?
Yes, Grass-fed Ghee is both non-GMO and gluten-free.
Shelf life?
Ghee is shelf stable, and unless contaminated or exposed to moisture should be good for a very long time. Use a clean spoon each time you dip into your ghee and keep it sealed to preserve it, or refrigerate it if you prefer.
How do you ship it? Will heat or cold damage my ghee?
Our ghee is stored and shipped at ambient temperature. When exposed to heat or cold, it is normal for ghee to melt and re-solidify and change texture. It is normal for ghee to appear liquid, solid or grainy and will not affect taste.
My ghee is liquid. Is it safe to eat?
Ghee is fine to eat in either liquid or solid state, and will taste the same. If you prefer more solid ghee, store it in the refrigerator and it will firm up like butter.
Why would I use ghee instead of grass-fed butter?
Ghee is naturally shelf stable, has a higher smoke point and a delicious toasted flavor that make it a great alternative to butter, and it also has far less casein and lactose which some people are sensitive to.
Is there a flavor?
Grass-fed Ghee has a natural rich and buttery flavor, and a smooth and creamy texture. There are no colors, dyes, flavor enhancers, or preservatives added. Just 100% pure butterfat from grass-fed cows.
What animal products are contained in the Ghee?
Grass-fed Ghee is made from the milk of a grass-fed, pasture-grazing cows. 
Caution: When ghee or butter is consumed at levels above 10% total calories, it can increase risk of cardiovascular disease.