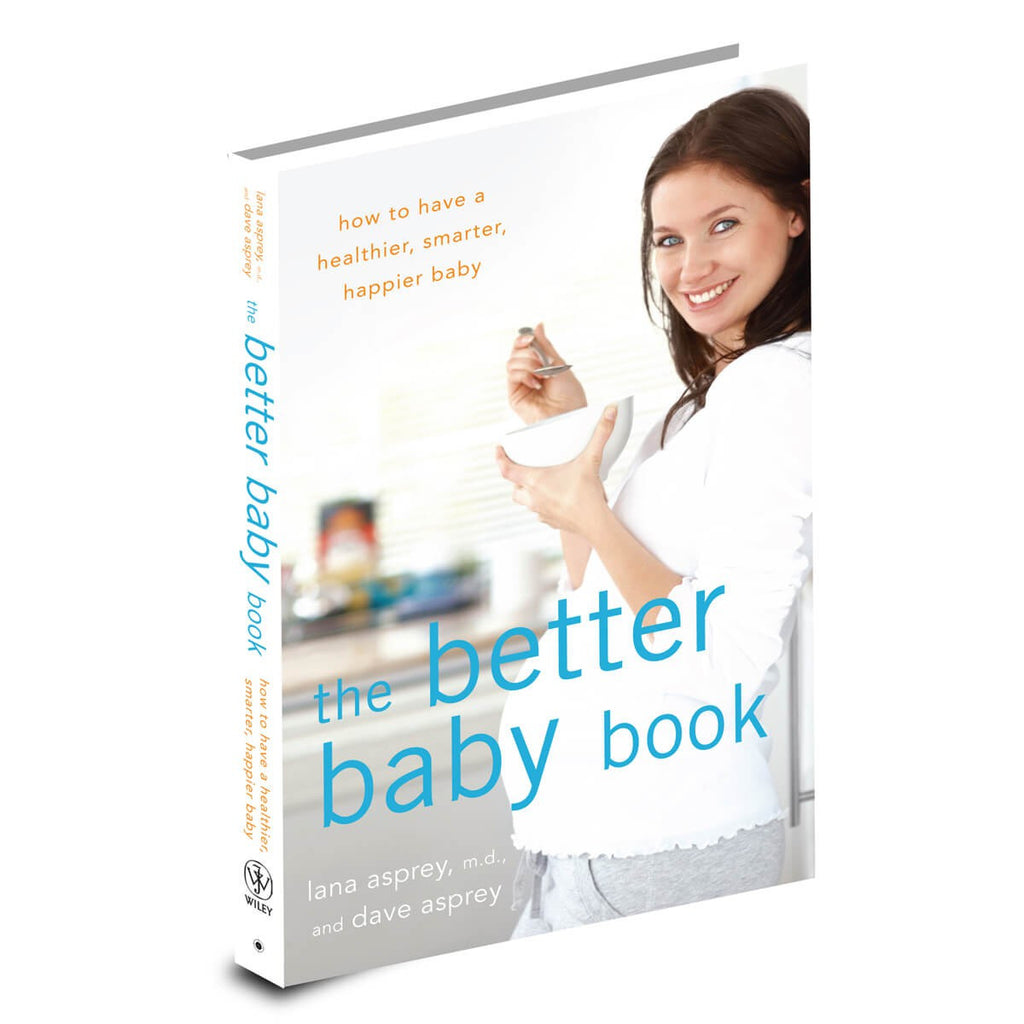 The better baby book
---
SFr. 25.00
Sold out
---
Type: Food supplements
Vendor: Bulletproof
---
---
Description:
Whether you're planning for pregnancy or are already expecting, this essential prenatal guide draws on the latest genetic research to give you a complete program of specific nutrition and environmental lifestyle changes to help you have a better baby.  
Written for parents everywhere, it contains a program created by two parents - a fertility-oriented physician and a nutrition expert - to reactivate their own fertility after age forty. The book is based on the emerging science of epigenetics, showing how you can change the way your environment interacts with your genes and affect which genes are expressed or "turned on." The Better Baby Book shares important steps you can take to improve preconception nutrition and reduce toxins in your home and your body. Helping you get consciously get pregnant and your baby be healthier, smarter, and stronger. 
This groundbreaking guide... 
Builds on the latest epigenetics research to help you produce a healthier, smarter, and happier baby with genes for lower risk of allergies, asthma, and developmental issues.
Shares a specific prescriptive program based on four principles: eating the right foods; taking the right supplements; detoxifying before, during, and after pregnancy; and using new techniques to consciously control maternal stress. Demonstrates how a woman's health and her environment during pregnancy may have a much bigger lifelong impact on her child than was previously thought. Includes the authors' compelling story of developing the Better Baby Plan as they had their own better babies.
The Authors
Lana Asprey, M.D., is a mother of two shockingly healthy children and a Karolinska-trained physician who runs an international natural fertility and healthy pregnancy consulting practice. She helps couples recover fertility and have healthier pregnancies and better babies using the natural techniques that she helped to pioneer in order to have her own healthy children later in life. Her techniques are now outlined in The Better Baby Book, and she has been interviewed in Vogue. She is the former medical director of a medical testing company evaluating neurological immunity to environmental factors, and practiced medicine in Stockholm, Sweden. She speaks internationally on topics of nutrition and early childhood to create healthy children, healthy parents, and healthy families. 
Dave Asprey, MBA, is a well-known blogger and media figure on health and human performance because of his "Bulletproof Executive" work behind Bulletproof Coffee and the Bulletproof Diet. He's been featured on ABC's Nightline , CNN, and in Vogue and Men's Health. The Financial Times calls him a "bio-hacker who takes self-quantification to the extreme of self-experimentation." His writing has been published by the New York Times and Fortune, and he's presented at Wharton, the University of California, and Singularity University. For nearly a decade, he's run the Silicon Valley Health Institute, an anti-aging nonprofit education group.